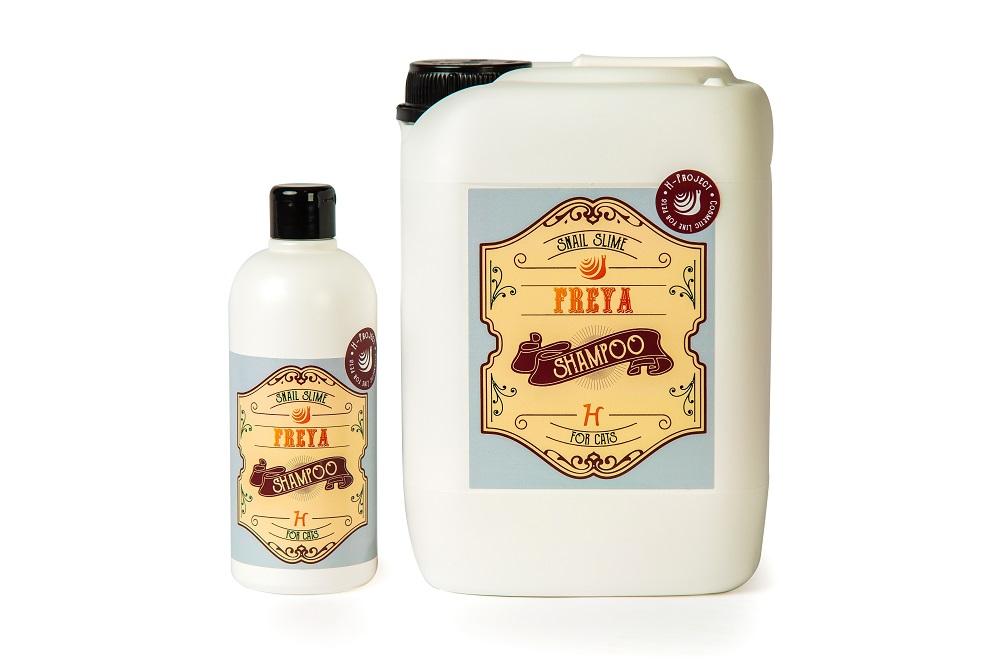 FREYA SHAMPOO PER GATTI 5000ml
€95.00
Freya shampoo professionale a base di bava di Lumaca, espressamente creato per la toelettatura del gatto. Ristrutturante e detergente aiuta in tutte le operazioni di toelettatura a raggiungere i risultati desiderati.
Usato con regolarità riduce la possibilità di formazione dei nodi, facilita la pettinabilità e soprattutto agisce anche a livello della cute grazie alla presenza di Bava di Lumaca. Permette di lavorare con i manti più delicati a cominciare da quelli di colore bianco, ottenendo dei risultati incredibili. Infatti non ha bisogno dell'azzurrante ottico per nascondere il giallo dell'ossido ma agisce grazie all'acidità del suo pH che riesce a rimuovere tutto l'ossido dal pelo senza bisogno di "trucchi ottici".
Questo meccanismo permette fin dal primo trattamento di ottenere un risultato miracoloso; E' una innovazione unica nel suo genere! Ovviamente permette risultati strabilianti su tutti i tipi e colori del mantello del gatto senza alterare la tessitura del pelo. Utilizzato per la caratteristica "seboregolatrice" della Bava di Lumaca lo shampoo Freya ottiene risultati sorprendenti anche nelle problematiche più diffuse tipo la "coda dello stallone" nel maschio.
Le caratteristiche principali della Bava di Lumaca si esplicano in azione decongestionante, ristrutturante, lenitiva, esfoliante e cicatrizzante.
Indicatissimo in tutti i casi di dermatite.
Studiato appositamente senza alcuna fragranza o profumo per non alterare il delicato apparato olfattivo questo permette di evitare anche la fastidiosa "leccatura" del pelo dopo il bagno.
Indicazioni d'uso:
Diluire lo shampoo Freya con 15 parti d'acqua (1:16). Applicare su pelo asciutto massaggiando a fondo.
Lasciare agire per circa 3 minuti poi risciacquare con cura ed eventualmente ripetere l'operazione.
Utilizzare puro su coda e guance se molto unte.
Tanica 5000ml

Freya professional shampoo based on snail slime, specially created for cat grooming. Restructuring and cleansing, it helps in all grooming operations to achieve the desired results.
Used regularly it reduces the possibility of knot formation, facilitates combing and above all also acts on the skin thanks to the presence of Snail Slime. It makes it possible to work with the most delicate coats, starting with white coats, achieving incredible results. In fact, it does not need optical brightener to hide the yellow oxide but acts thanks to the acidity of its pH, which manages to remove all the oxide from the coat without the need for 'optical tricks'.
This mechanism allows a miraculous result from the very first treatment; it is a unique innovation! It obviously allows amazing results on all types and colours of cat coats without altering the texture of the hair. Used because of the 'sebum-regulating' characteristic of Snail Slime, Freya shampoo achieves amazing results even in the most common problems such as 'stallion tail' in male cats.
The main characteristics of Snail Slime are decongesting, restructuring, soothing, exfoliating and healing.
Indicated in all cases of dermatitis.
Specially formulated without any fragrance or perfume so as not to alter the delicate olfactory apparatus, this also avoids the annoying "licking" of the hair after bathing.
Indications for use:
Dilute Freya shampoo with 15 parts water (1:16). Apply to dry coat, massaging in thoroughly.
Leave on for about 3 minutes then rinse thoroughly and repeat if necessary.
Use pure on tail and cheeks if very greasy.
Tan. 5000ml