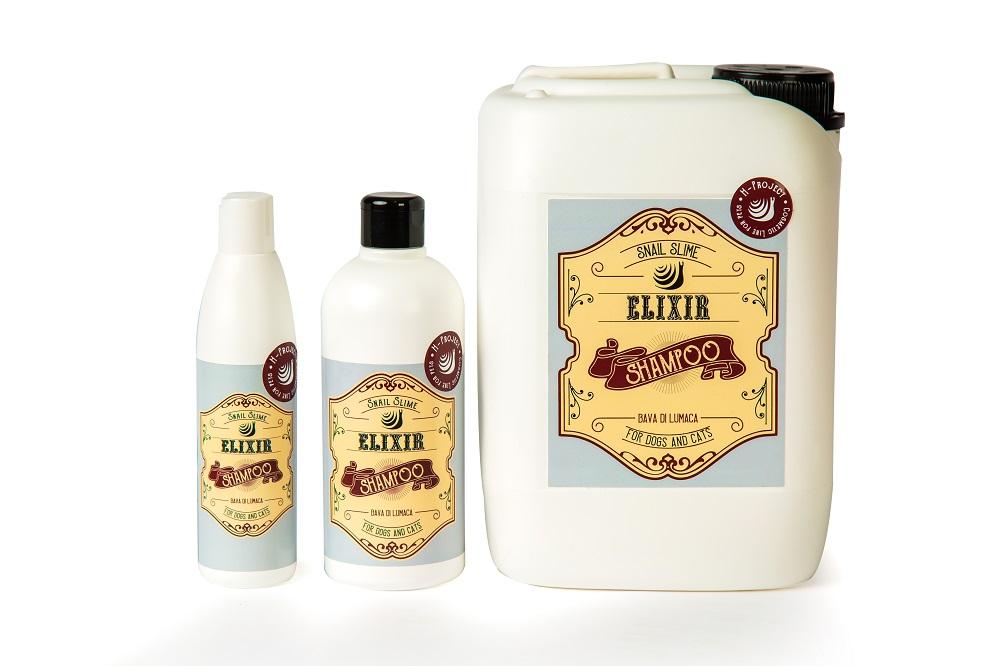 ELIXIR SHAMPOO ALLA BAVA DI LUMACA PER CANI E GATTI 5000ml
€90.00
Shampoo professionale per cani e gatti con alto potere detergente ad ampio spettro d'azione a base di Bava di Lumaca, indicato per i mantelli di colore bianco o comunque per tutti i tipi di pelo. Eccezionale neutralizzatore di odori sgradevoli. Elixir Shampoo, oltre ad avere un altissimo potere detergente, espleta importanti funzioni. Azione purificante grazie ai peptidi e all'acido glicolico contenuti nella Bava di Lumaca che prevengono l'accumularsi di impurità o, se presenti, riescono ad allontanarle. Azione idratante: le proteine presenti nella Bava di Lumaca aiutano l'ossigenazione dei tessuti e l'idratazione, esaltando la condizione di pelle e pelo sano. Elixir Shampoo inoltre presenta caratteristiche davvero uniche: ha un alto potere idratante e cicatrizzante per l'effetto combinato di alcune sostanze quali collagene, allantoina e vitamine. Rigenerante e nutritivo in virtù della forte presenza di vitamine e proteine, esfoliante e detergente grazie alle proprietà leviganti, esfolianti e purificanti dell'acido glicolico, utile per ristabilire salute e lucentezza al mantello tramite un peeling delicato dello strato superficiale della pelle e del pelo.
MODO D'USO: diluire il prodotto con 15 parti di acqua (16:1) e procedere con un primo lavaggio sul pelo asciutto. In questa fase è consigliabile aiutarsi con una spugna a rete e ripetere l'operazione se necessario. Risciacquare abbondantemente e procedere con l'asciugatura.
Tanica 5000ml

Professional shampoo for dogs and cats with high cleansing power and a broad spectrum of action based on Snail Slime, suitable for white coats or all types of coat. Exceptional neutraliser of unpleasant odours. Elixir Shampoo, as well as having a very high cleansing power, performs important functions. Purifying action thanks to the peptides and glycolic acid contained in Snail Slime which prevent the accumulation of impurities or, if present, manage to remove them. Moisturising action: the proteins present in Snail Slime help oxygenate the tissues and moisturise, enhancing the condition of healthy skin and coat. Elixir Shampoo also has very unique characteristics: it has a high moisturising and healing power due to the combined effect of certain substances such as collagen, allantoin and vitamins. Regenerating and nourishing thanks to the strong presence of vitamins and proteins, exfoliating and cleansing thanks to the smoothing, exfoliating and purifying properties of glycolic acid, useful for restoring health and shine to the coat through gentle peeling of the surface layer of the skin and coat.

how to use: Dilute the product with 15 parts water (16:1). Distribute evenly over dry coat, massaging thoroughly. It is advisable to use a net sponge at this stage. Rinse thoroughly and repeat if necessary.


Tank 5000ml