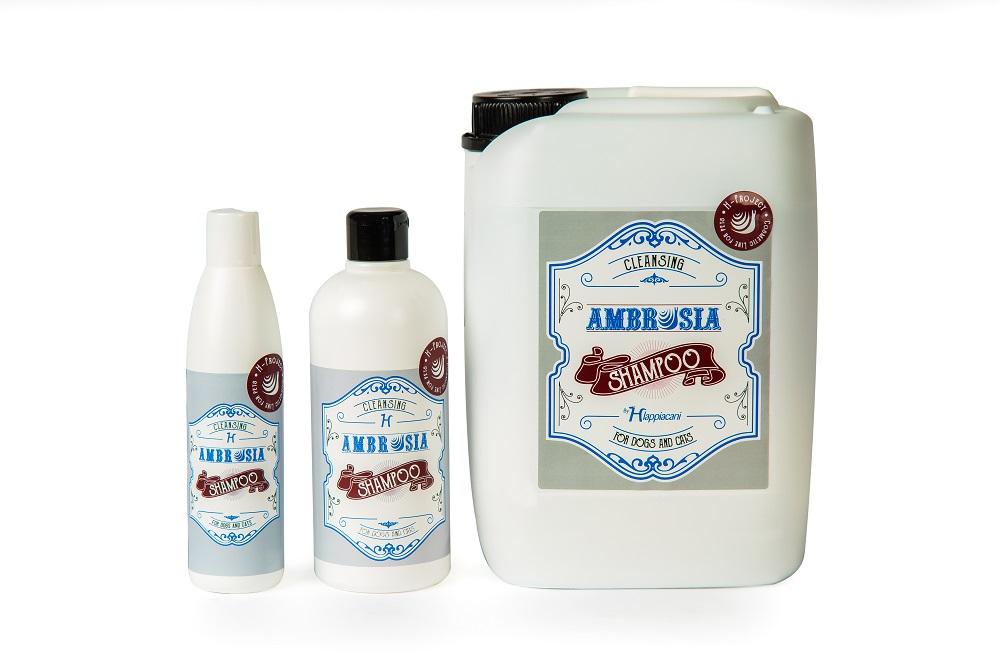 AMBROSIA SHAMPOO CHERATINICO ALLA BAVA DI LUMACA 5000ml
€90.00
Shampoo professionale per cani e gatti con alto potere detergente ad ampio spettro d'azione a base di Bava di Lumaca, indicato per il pelo ruvido o comunque per tutti i tipi di pelo. Eccezionale neutralizzatore di odori sgradevoli. Cheratolitico, idratante e regolatore di pH. Ambrosia Shampoo per cani e gatti oltre ad avere un altissimo potere detergente espleta due importanti funzioni: Azione purificante grazie ai peptidi e all'acido glicolico contenuti nella Bava di Lumaca che prevengono l'accumularsi di impurità o, se presenti, riescono ad allontanarle. Azione idratante: le proteine presenti nella la Bava di Lumaca aiutano l'ossigenazione dei tessuti e l'idratazione, esaltando la condizione di pelle e pelo sano. Alta percentuale di Cheratina che conferisce corposità e aiuta a riparare il pelo danneggiato.
MODO D'USO: diluire il prodotto con 15 parti di acqua (16:1) e procedere con un primo lavaggio sul pelo asciutto. In questa fase è consigliabile aiutarsi con una spugna a rete e ripetere l'operazione se necessario. Risciacquare abbondantemente e procedere con l'asciugatura.
Tanica 5000ml

Professional shampoo for dogs and cats with high cleansing power and a broad spectrum of action based on Snail Slime, suitable for rough coat or all types of coat. Exceptional neutraliser of unpleasant odours. Keratolytic, moisturising and pH regulator. Ambrosia Shampoo for dogs and cats not only has a very high cleansing power but also performs two important functions: Purifying action thanks to the peptides and glycolic acid contained in the Snail Slime which prevent the accumulation of impurities or, if present, manage to remove them. Moisturising action: the proteins present in the Snail Slime help oxygenate the tissues and moisturise, enhancing the condition of healthy skin and coat. High percentage of Keratin which gives body and helps repair damaged coat. HOW TO USE: Dilute the product with 15 parts of water (16:1) and proceed with an initial wash on dry coat. At this stage it is advisable to use a net sponge and repeat the operation if necessary. Rinse thoroughly and dry.
Tank 5000ml